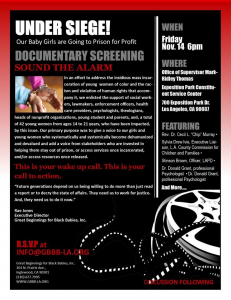 On Friday, November 14, NGHJI President and Founder Leslie Acoca attended a screening of "Under Siege! Our Baby Girls Are Going to Prison for Profit," a new documentary film in which she is prominently featured.
The film explores the deplorable mass incarceration of girls in the United States for the benefit of private prison contractors who profit from the drug war and the other racially unequal applications of criminal justice that have led the US to have some of the highest incarceration rates in world. The affects of these policies are brought to light through the voices of some of the girls and women who have been systematically dehumanized by the criminal justice system.
We hope the film continues to find audiences to share its dramatic insights into the affects of America's culture of incarceration.